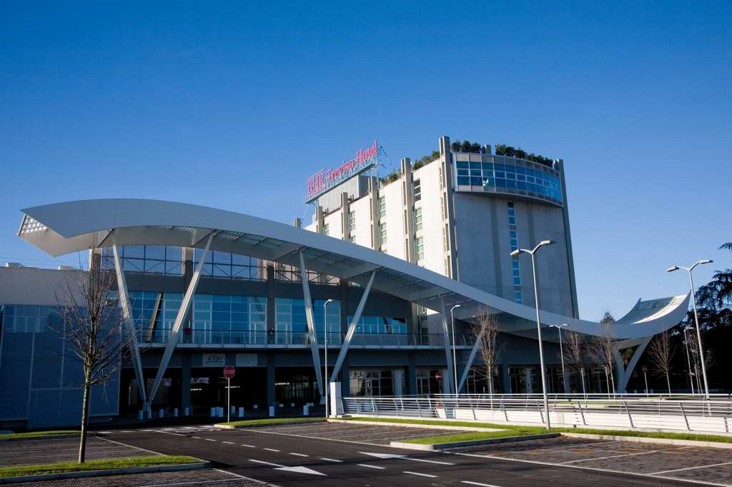 THE HOTEL
BEST WESTERN PREMIER BHR Treviso Hotel is a contemporary building, conveniently located a few minutes from the old town and just 2 km away from Canova Treviso Airport. Its sophisticated international style embraces its guests with the bright colours of the local joie-de-vivre. The hall is extremely spacious with a lounge area where guests can relax on comfortable chaise longue, sofas and armchairs, surrounded by mosaics and waterfalls.
BEST WESTERN PREMIER BHR Treviso Hotel has 133 rooms with single or double beds and connecting rooms. All rooms are furnished with latest generation extra large beds, wardrobe with laptop size safe, working desk (195 x 60 cm), LCD TV with satellite channels and pay per-view, TV adapter, free Mediaset cable TV and Wi-Fi connection, bathroom with tub or shower, tea & coffee making facilities, air conditioning with individual controls and fire protection system with the highest level of safety, internationally certified.
18 suites are at guests' disposal, with parquet flooring or comfortable English wool carpeting, able to accommodate up to 4 people. Junior Suites, covering more than 50 sqm, are suitable for guests willing to combine the privacy of their bedroom with a meeting room. Suites have a number of extra amenities that make a guest's stay memorable: bathrooms with Jacuzzi, shower and separate WC, wardrobe with laptop size safe and large working desk. The unique and panoramic 80 sqm Presidential Suite, located in the stunning penthouse with a panoramic view of the countryside, features a sleeping area with extra large bed, a lounge area with sofa bed and dining table and two large bathrooms with Jacuzzi, shower and separate WC.
What better way to unwind after a busy workday or a sightseeing of Treviso surroundings than in their relaxing well-equipped Wellness & Fitness Centre, located on the last floor, it offers a huge breathtaking panoramic view. It features Technogym training equipment, Jacuzzi bath, Finnish sauna, Turkish bath, aromachromo therapeutic showers and relaxation area. Massages are available upon request.
Business guests can enjoy interesting and useful services. Every room is endowed with Wi-Fi and Adsl connection and teleadapter to connect their personal computer or video camera to the LCD TV screen. Hotel guests can also use the shuttle service to Treviso city centre and Canova Treviso Airport and take advantage of room service, quick check-in and late check-out. After a hard day's work, guests can finally relax in the Wellness & Fitness Centre.
DiVino Osteria Trevigiana is the hotel restaurant with 100 seats, featuring a unique design which recalls the colours of our region to enhance the use of local products in the menus. A spectacular display of wine bottles astonishes good wine lovers. As the name itself states, its cuisine offers the local tradition flavour together with international dishes and a renowned wine list. The Chef creates menus conceived for food intolerance or diet issues, by choosing locally reared and locally grown ingredients.
Gioja Lounge Bar, with its wonderful backlit onyx counter, is the fashionable meeting point for the hotel guests. During the day, from a welcoming and elegant coffee bar it turns into a tempting bar, in which to enjoy snacks, salads and first courses surfing the internet with Wi-Fi connection. In the evening Gioja is a lounge bar with good music in which to enjoy a glass of Prosecco wine on comfortable sofas and chaise longue.
THE CONGRESS CENTRE
BHR Treviso Hotel offers a cutting-edge Congress Centre with highly qualified staff. The congress area, covering more than 1.200 square metres.
The Congress Centre, located on the first floor, can hold more than 600 people.
From the ground floor or the garage with more than 600 parking spaces, you can easily reach the foyer.
The soundproof meeting rooms are fitted with the most modern audio and video technology and can be connected to each other by video conference. Each room offers video projectors, screens, fi xed cameras for video-recording, PA system with table, hand, levalier and headset microphones, plasma monitors indicating the way to the rooms or projecting videos. The congress area features a Business Centre equipped with personal computers, printer and fax machine, Wi-Fi internet access and ADSL connection.
Room Prices:
Single Room: Euro 100,00 per night, breakfast included
Double/Twin Room: Euro 130,00 per night, breakfast included
Single Suite: Euro 130,00 per night, breakfast included
Double Suite: Euro 160,00 per night, breakfast included
Presidential Suite: Euro 310,00 per night, breakfast included
Third bed option: Euro 30,00 per night, breakfast included
All prices include wi-fi access, acces to SPA, external parking.
Suites Includes mineral water from minibar, in-room tea and coffee facilities, surveilled garage